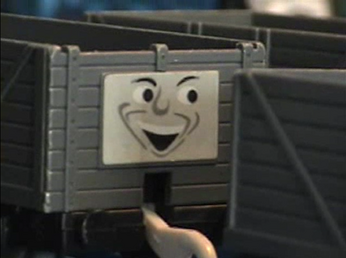 The Troublesome Trucks
are a group of freight cars that cause nothing but trouble on The Island of Sodor. They usually derail and engine, make fun at an engine, and sometimes gets away with all of their massive damages that they've left behind. Their first appearance in "
Thomas & Friends: Island of Sodor Adventures
' is
Thomas Helps Out
. They will be voiced by both
Ackleyattack4427
and
Danielthetankengine
.
Early Life
Present Life
Personality
Physical Appearance
Relationships
Gallery
Background Information
Appearances
Related Articles
Shows
Musicals
Characters
Ad blocker interference detected!
Wikia is a free-to-use site that makes money from advertising. We have a modified experience for viewers using ad blockers

Wikia is not accessible if you've made further modifications. Remove the custom ad blocker rule(s) and the page will load as expected.