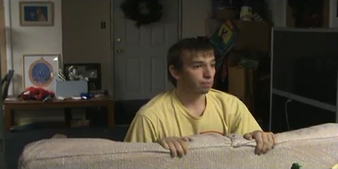 For the man behind the YouTuber himself, see Jon McDowell.
Trainboy54 is the creator of TOMY/Trackmaster T&F and voice actor for Jack, The Yard Manager in Thomas & Friends: Island of Sodor Adventures. He originally joined YouTube by the name "trainboy54". But unfortunately, he was gone due because of Disney's copyright, he then rejoined YouTube by the name of "thenewtrainboy54". But on February 25th, 2016, his channel is became terminated again due to copyright claims/strikes, But currently, he managed to retain his original username and is back as "Trainboy54"
Awards
Production Information
Critical Reception
Although his series was a success, Jon started to receive hate in mid-July of 2012. He was known for poor editing and poor animation for so many fans of the old series of Thomas & Friends. The plots are also similar to the actual "Thomas and Friends" series and the mixing of the "Phineas and Ferb" characters as trains. It would also appear that Jon seems to like shows that are hated by many people such as "Barney & Friends", "The Wiggles", and "Thomas & Friends". This happened for about three more years until Jon's second account was terminated in February of 2016 which lasted over 32,500 subscribers.
Background Information
Jon is a good dancer in an episode of "Trainboy54's Adventures of Phineas and Ferb".
He is a man of many talents, like telling Abbott & Costello jokes
Jon lives in Cape May, NJ.
He is an amazing voice actor for not only his series, "TOMY/Trackmaster T&F", he also voices the role of Jack, The Yard Manager for "Thomas & Friends: Island of Sodor Adventures".
His series, TOMY/Trackmaster T&F follows closely to the Thomas & Friends TV show, but adding a few gags from other TV shows he watches as well.
Not only he is a good voice actor, he also spends most of his time working on TOMY/Trackmaster T&F, and many other Thomas shows from other YouTubers.
He is an incredible thrower in one of the episodes of "Trainboy54's Adventures of Phineas and Ferb".
He used to have a Wikia where he would upgrade his future projects on there. But it got shut down soon afterwards in the summer of 2012.
He was one of the few people that refuse to connect his account to a Google Plus account.
Jon's last video on "thenewtrainboy54" was a remake of the Thomas and Friends episode "Down the Mine".
Voices
Links
Related Articles
Shows
Musicals
YouTubers
Ad blocker interference detected!
Wikia is a free-to-use site that makes money from advertising. We have a modified experience for viewers using ad blockers

Wikia is not accessible if you've made further modifications. Remove the custom ad blocker rule(s) and the page will load as expected.