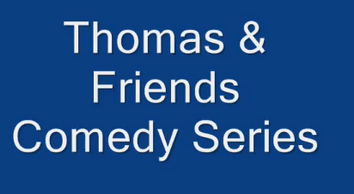 Thomas & Friends the Comedy Series was the first series that was created by SamTheThomasFan1 from 2010-2011. The comedy series was cancelled mainly because SamTheThomasFan1 had too much to do.
Episodes
Season 1
James and the Word "Fatty"
Thomas and Edward
Henry's Special Coal
Percy Pulls the Express
The Little Engine Squad
Special
The Legend of Thomas' Ancestors
Season 2
Traumitized Bertie
Sir Handel In Jeopardy
Percy VS Hector the Horrid (Cancelled)
Here Comes Arthur (Cancelled)
Cast
Gallery
Background Information
Production Information
Domestic Premieres
International Premieres
Songs
Errors
Allusions
Awards
Related Articles
Shows
Musicals
Movies
Ad blocker interference detected!
Wikia is a free-to-use site that makes money from advertising. We have a modified experience for viewers using ad blockers

Wikia is not accessible if you've made further modifications. Remove the custom ad blocker rule(s) and the page will load as expected.