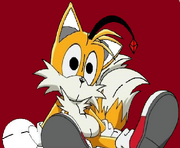 Tails Doll
is a character from "
Cheyenne and Tails Doll visits Shining Time Station
" as well as appearing in Cheyenne's videos on YouTube. He was created by Robotnic/Eggman to act as a partner for metal sonic but he was abandoned after the events of Sonic R now he's a good pal to Cheyenne, Mia Jones, Zoe Jones and Ben Ackley.
Appears in
Links
Ad blocker interference detected!
Wikia is a free-to-use site that makes money from advertising. We have a modified experience for viewers using ad blockers

Wikia is not accessible if you've made further modifications. Remove the custom ad blocker rule(s) and the page will load as expected.