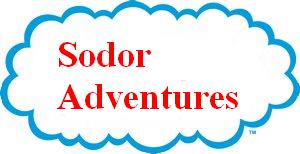 Sodor Adventures
is the internet series that has been with us since it premiered onto YouTube on February of 2010. It officialy opened as "Sodor Adventures Productions" on December 28, 2009. With
Sodoradventures
on the creation of this series, it has become one of the most popular series to ever hit YouTube. Since after it gained over 330 Subscribers and a whooping 130,000 Upload Views, it has been declared on of the most popular YouTuber to have ever existed.
Episodes
Season 1
Season 2
Movies
Specials
Transcripts
Episodes
Movies
Specials
Cast
Gallery
Background Information
Ackleyattack4427 has made a remake to Episode 1 of the series, "Trouble on the Tracks".
Production Information
Domestic Premieres
YouTube-Feburary 14, 2010
International Premieres
YouTube-Feburary 14, 2010
Songs
Errors
Allusions
Awards
Related Articles
Shows
Musicals
Movies
Contact Information
Ad blocker interference detected!
Wikia is a free-to-use site that makes money from advertising. We have a modified experience for viewers using ad blockers

Wikia is not accessible if you've made further modifications. Remove the custom ad blocker rule(s) and the page will load as expected.