Legokidize aka A Weirdo Kid Productions ( Nicholas Rayer ) is a 13 year old teen who loves to make movies and play video games like teens. some of his project was maybe he sill working on. or canceled. but he trying for new ideas.
Past and future Projects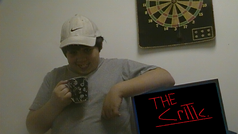 :
Trackmaster T&F - Canceled
Trackmaster T&F the movie - Canceled
The Critic Reviews - cooming in 2012/2013 ( or 2014.)
Oliver. A Bum : A professional commentar - 2012/2013 ( or 2014. )
Super Mario Plash Adventures - ? ? ?
The people who inspire was : Doug Walker ( Nostagia Critic ), James Rolfe ( AVGN ), Smosh, missoliverandblossom ( William Grubb ), trainlover476 ( joey tuner ) and thomasfan8 (Thomas Faneight) the list go on and on.....
- Nicholas Rayer -
Awards
Background Information
TO BE CONTINUED!!!
Ad blocker interference detected!
Wikia is a free-to-use site that makes money from advertising. We have a modified experience for viewers using ad blockers

Wikia is not accessible if you've made further modifications. Remove the custom ad blocker rule(s) and the page will load as expected.