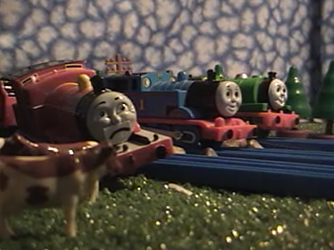 James' Unlucky Day is the second episode to ever the ever popular series on YouTube, "Thomas & Friends: Island of Sodor Adventures." When James is making fun of Thomas and Percy and is in serious trouble, it's up to Thomas and Percy to help James out and also with a little bit a surprises around the corner in this all-new episode.
Episode Summary
Transcript
For a full transcript of James' Unlucky Day, click here.
Gallery
Memorable Quotes
TBA
Background Information
Production Information
Domestic Premieres
YouTube-September 3, 2012
International Premieres
YouTube-September 3, 2012
Errors
Continuity
Allusions
Cast
Related Articles
Shows
Musicals
Ad blocker interference detected!
Wikia is a free-to-use site that makes money from advertising. We have a modified experience for viewers using ad blockers

Wikia is not accessible if you've made further modifications. Remove the custom ad blocker rule(s) and the page will load as expected.